Jacob – Our Children's Ambassador
Jacob first came to our attention in the winter of 2017 when he was just 7 years of age. So moved by the plight of rough sleepers he took it upon himself to start his campaign "Jacob's Backpack Campaign" to raise funds to fill backpacks to donate to rough sleepers. His original target was to be able to fill 10.
After becoming more and more concerned by the amount of homeless people he'd seen when visiting town centres in Essex, and asking his parents endless questions about the well-being of rough sleepers in the winter, Jacob went up to his bedroom and came down with a head full of ambition and this poster, which reads:
Wanted: Backpacks, Blankets, Thick socks, Jumpers, Hats, gloves and scarves.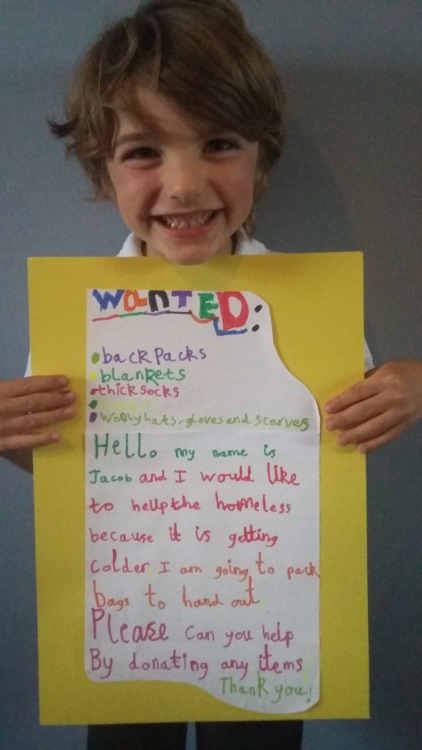 Hello, my name is Jacob and I would like to help the homeless because it is getting colder. I am going to pack bags to hand out. Please help by donating any items, Thank you."
Jacob planned to kit out each backpack with everything he could to help make the recipients' time on the streets just a little bit more comfortable, and sold toys at a boot sale and held a garage sale to help raise money to purchase things like toiletries, energy bars and tins of food. In just over a week after starting his campaign, Jacob had received enough warm clothing to fill around 8 backpacks, but after being featured in the local newspaper Jacob's eyes lit up as he said: "How amazing would it be if we could fill 50!"
Needless to say, news of the campaign quickly spread and Jacob managed to receive enough donations and raise enough money to fill 138 adult backpacks, and 60 children's backpacks by the end of February 2018.
We were instrumental in Jacob being filmed in a short BBC film which has since gone viral with over 17 million views and since then hundreds of backpacks have been donated to Jacobs Backpack Campaign.
Jacob is 8 now and has said:
"Now I would like to fill 1000 backpacks by the time I am 10. To think of 1000 smiles. 1000 lives saved from the cold. It would be incredible, and I believe it will happen, because miracles happen if you believe in them."
Links:
Jacob's Website | BBC News Video | Facebook
Cool to be Kind was so inspired by Jacob's tireless work that we asked him to be our 'Children's Ambassador' which he readily agreed to and since then he has worked with us to spread the words of kindness and compassion.