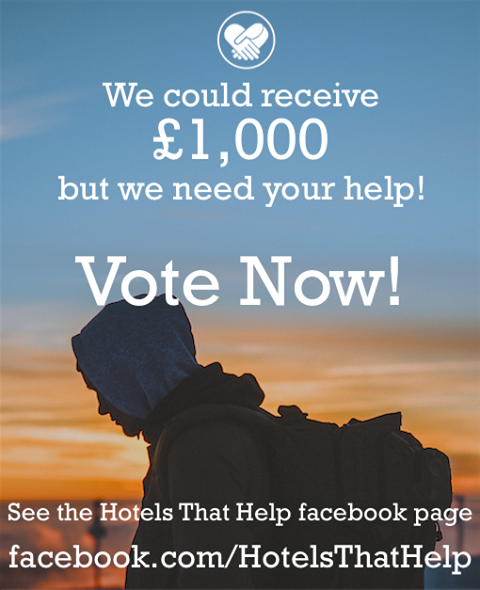 🎉 VOTING NOW OPEN 🎉
HOW TO VOTE: See our Tabs section '£1,000 Giveaway' or click here: http://wshe.es/x4A2sWLe
To celebrate the launch of www.HotelsThatHelp.co.uk, we are giving £1,000 to a homeless charity/project of your choice!
Vote for your favourite now! (Link above)
Voting ends 5th January 2019 at 23:59 – the nominee with the most votes will receive £1,000. We will also select our favourite runner-up to receive £250. Link to full T&Cs below.
You may vote for more than one nominee (but you may not vote for the same nominee more than once). Please vote for the nominee(s) you think are the most deserving of £1,000. They are all incredibly valuable charities/projects and are all worthy of your votes!
£1,000 funding courtesy of www.HotelsThatHelp.co.uk – the new travel booking website that uses all profits to put an end to homelessness.
VOTE HERE: http://wshe.es/x4A2sWLe
An email address must be used to vote – but you do not have to opt-in to receive emails from us. By not opting-in to receive emails, you can still vote and an email address is still required, but this will be kept anonymous from us and you won't receive any emails.
Full T&Cs can be found here: https://www.facebook.com/notes/hotels-that-help/winter-contest-terms-conditions/254378685432263/