We are very excited to announce that Tom Walker (aka Jonathan Pie) has very kindly agreed to headline a gig for us at our very own Chelmsford Civic Theatre on Friday 10th January 2020 with all profits going to Cool to be Kind.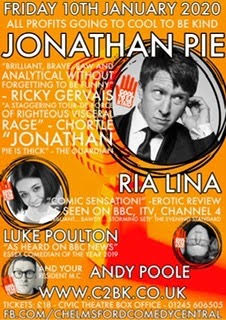 Jonathan Pie is a fictitious exasperated news reporter played by actor and comedian Tom Walker. His videos have been seen across the world. His previous two tours have taken in venues such as the Hammersmith Apollo and the London Palladium and performances across the US and Australia.  Jonathan Pie has been described as "brilliant, brave, raw and analytical without forgetting to be funny" by Ricky Gervais.
With over 1.2 million Facebook followers, his videos regularly achieve millions of views going viral internationally. His response to the election of Donald Trump was viewed more than 150 million times worldwide.  So you will understand how excited and honoured we are about this! 
Tickets are on sale now at £18 and can be purchased at the Civic Theatre box office.