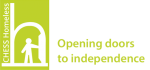 Short Description
CHESS (Churches Homeless Emergency Support Scheme) seeks to relieve homelessness and related hardship and distress amongst single adults in Chelmsford and Essex, through the provision of support services and temporary accommodation that helps them move on in their lives.
Long Description
To provide an adequate number of good standard accommodation for the single homeless. Encouraging service users to re-join society as useful members. Supporting improvement in the health and well-being of service users without discrimination or judgement. Giving practical help in achieving independent living and employment. Raising awareness of homelessness in Chelmsford and Essex. To become a catalyst for change and partnership recognising the resources of others.
We care for the homeless and vulnerable. respecting their need for safety and dignity. We promote a sense of security, self-worth and acceptance of the diversity of the individuals we serve. We encourage the growth and development of our staff and service users through partnerships and training opportunities with others. We are committed to equality of opportunity for all.
Address
200 New London Road
Chelmsford
Essex

CM2 9AD